Franz Pernkopf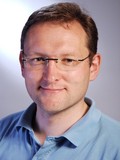 Room number

IDEG080

Telephone number

office: +43 (316) 873 - 4436

Position

Associate Professor

Email

Research interests

His research interests include machine learning, discriminative learning, graphical models, feature selection, finite mixture models, and image- and speech processing applications.
Franz Pernkopf received his MSc (Dipl. Ing.) degree in Electrical Engineering at Graz University of Technology, Austria, in summer 1999. He earned a PhD degree from the University of Leoben, Austria, in 2002. In 2002 he was awarded the Erwin Schrödinger Fellowship. He was a Research Associate in the Department of Electrical Engineering at the University of Washington, Seattle, from 2004 to 2006. Currently, he is Associate Professor at the Laboratory of Signal Processing and Speech Communication, Graz University of Technology, Austria. Franz Pernkopf is one of the founder of the consulting company Empiric for intelligent data processing (www.empiric.at).
CV for download.
---
Research Programs
Research Topics
Research Projects
Courses
Student Projects
PhD Theses
Publications