Franz Pernkopf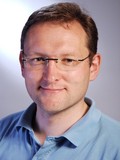 Room number

IDEG080

Telephone number

office: +43 316 873 - 4436

Position

Professor

Email

Research interests

His research interests include machine learning, discriminative learning, graphical models, feature selection, finite mixture models, and image- and speech processing applications.
Franz Pernkopf received his MSc (Dipl. Ing.) degree in Electrical Engineering at Graz University of Technology, Austria, in summer 1999. He earned a PhD degree from the University of Leoben, Austria, in 2002. In 2002 he was awarded the Erwin Schrödinger Fellowship. He was a Research Associate in the Department of Electrical Engineering at the University of Washington, Seattle, from 2004 to 2006. From 2010-2019 he was Associate Professor at the Laboratory of Signal Processing and Speech Communication, Graz University of Technology, Austria. In 2010, he received the young investigator award of the province Styria, Austria. Since 2019, he is Professor for Intelligent Systems at the Signal Processing and Speech Communication Laboratory at Graz University of Technology, Austria.
His research is focused on pattern recognition, machine learning, and computational data analytics with application in various fields ranging from signal and speech processing to medical data analysis and other data modeling problems from industrial applications. He is particularly interested in probabilistic graphical models for reasoning under uncertainty, discriminative and hybrid learning paradigms, deep neural networks, and sequence modeling. Graphical models unite probability and graph theory and allow to efficiently formalize both static and dynamic, as well as linear and nonlinear systems and processes. They provide an approach to deal with two inherent problems throughout applied mathematics and engineering, namely, uncertainty and complexity. His recent interest in deep learning is nourished by the remarkable performance boost in many image,signal and speech processing problems. This is particularly true when having big amounts of data and almost unlimited computing resources available. Here, the research is focused on resource-efficient deep learning methods for constraint computing infrastructure of real-world applications.
CV for download.
---
Research Programs
Research Topics
Research Projects
Courses
Student Projects
PhD Theses
Publications