Hybrid Generative-Discriminative Training of Gaussian Mixture Models
Status

Finished

Type

Master Thesis

Announcement date

11 Oct 2013

Student

Wolfgang Roth

Mentors

Sebastian Tschiatschek

Robert Peharz

Research Areas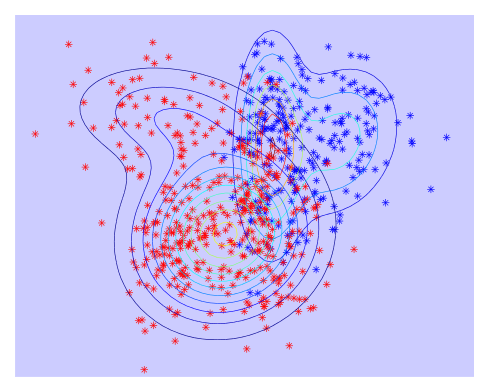 Short Description
Gaussian Mixture Models (GMMs) are a popular choice for modeling probability density functions, with a vast number of applications in speech and audio technologies and machine learning in general. For classification, one can use class-dependent GMMs and easily build a probabilistic classifier using Bayes rule. The problem here is, that the classical way to train GMMs, i.e. using the maximum likelihood principle and applying the expectation-maximization algorithm, is not aware of classification. This generative training typically yields sub-optimal classifiers. On the other hand, when the classifier is trained in a purely discriminative way, the model actually looses most of its probabilistic semantics.
In this master/diploma thesis, the task is to apply a recently proposed hybrid generative-discriminative learning criterion for GMM training. The goal of this approach is to
yield good classifiers,
but still allowing generative treatment of the model: marginalization of missing features and semi-supervised learning
Requirements
You should have
Good programming skills (Matlab is fine, but C++, Java, Python can also be used)
Strong interest in Machine Learning (at least absolved CI/EW, or some similar lectures)
Basic knowledge about probability calculus, ideally having experience with probabilistic graphical models
References
[1] C. M. Bishop, Pattern Recognition and Machine Learning, Springer, 2006.
[2] R. Peharz, S. Tschiatschek, F. Pernkopf, "The Most Generative Maximum Margin Bayesian Networks", ICML, 2013.
[3] F. Pernkopf and M. Wohlmayr, "Large Margin Learning of Bayesian Classifiers based on Gaussian Mixture Models", ECML, 2010