Christian Knoll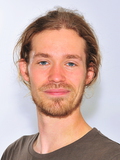 Room number

IDEG068

Telephone number

office: +43 (316) 873 - 4480

Position

Research and Teaching Associate

Email

Research interests

My research interests include machine learning, graphical models, submodular functions and statistical signal processing.
I was born in Linz, Austria, in 1987. I have finished my master studies in telematics in 2014 (with distinction). Since 2014 I am working as a Research and Teaching Associate at the SPSC.
---
Courses
Student Projects
PhD Theses
Publications