Development and Comparison of Lung Sound Transducers
Status

Open

Type

Master Thesis

Announcement date

11 Mar 2015

Mentors

Research Areas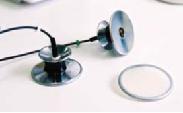 Description
Auscultation is the act of listening to the sounds of internal organs. It is an effective non-invasive clinical tool to monitor the respiratory system. Therefor, the stethoscope is used for more than 200 years. The inherent inter-listener variability and the recent technical advances yield to an increased interest in computer-aided lung sound research.
In a current project (CULA - Computerized Lung Sound Analysis) a multichannel recording system is developed. An important task is the selection/development of the sensor. In lung sound research the sensors are generally designed by the investigators or adapted from related fields. Crucial requirements for the sensors are high sensitivity and robustness against air- and body-borne noise.
Your Tasks
literature
comparison of different lung sound sensors
development of a sensor
Your Profile
motivation and interest in the topic
knowledge in audio engineering/acoustics
Additional Information
This master thesis / project is planned for a duration of about 6 months starting immediately.
References
F. Graf, G. Wurzinger, U. Kleb, and H. Köhler, "Multichannel recording and classifying of respiratory sounds.