GRASS - Data Collection
This article is part of GRASS: the Graz corpus of Read And Spontaneous Speech.
Equipment
HM

close talking head sets (AKG HC-577)

FM

large diaphragm microphone (AKG C-414) + pop screen

LG

laryngograph → F0 reference

V

video camera

LAWO

mixing desk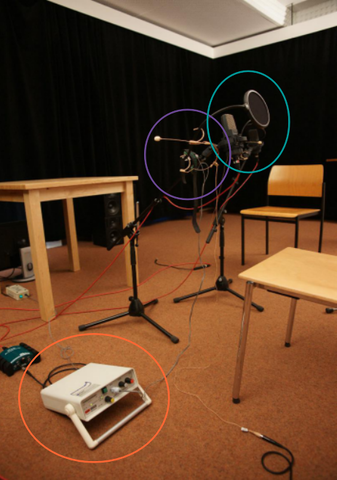 ---
Sound Quality
16 bit, 48 kHz sampling rate
average SNR over all speaking styles of 49.6dB
average SNR in conversational speech of 46.4dB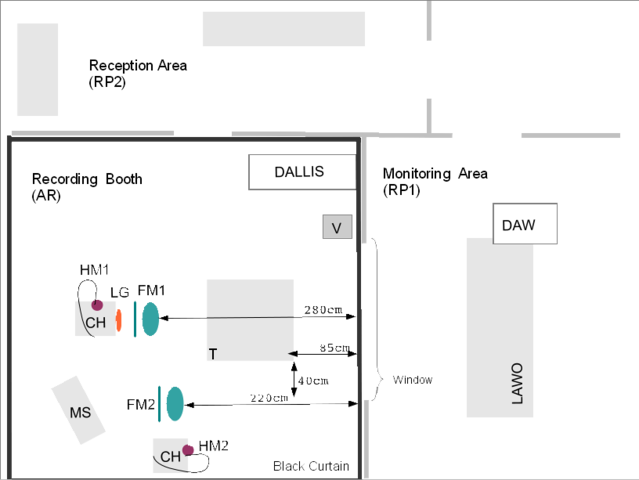 ---
Recording Procedure
(1) Conversational Speech
1.1 Speakers (two friends or two family members) enter the reception area: contracts and instructions.
1.2 Speakers enter recording area. Instruction: talk about whatever they want; they might use cards to start the conversation.
1.3 Experimenter leaves the room, returns in one hour.
Break.
(2) Elicited Commands
2.1 Speaker 1 enters recording area.
2.2 Pictures on screen presented with SpeechRecorder elicit e.g., "Bitte die Tür schliessen!"
(3) Read Speech
3.1 Speaker 1 reads sentences and digits from screen.
Break.
2.1 -- 3.1 for Speaker 2.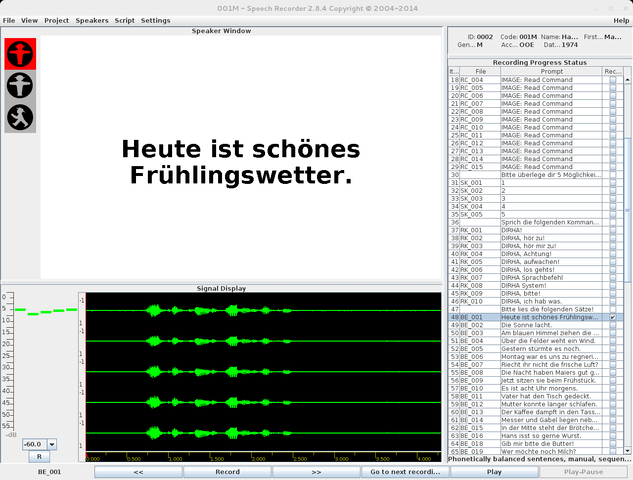 ---
Further Reading on GRASS